Products Search
Products Category
Contact Us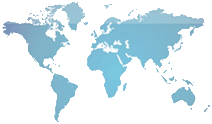 Links
Mixer Amplifier with 5 Zone / CD Player FCD Series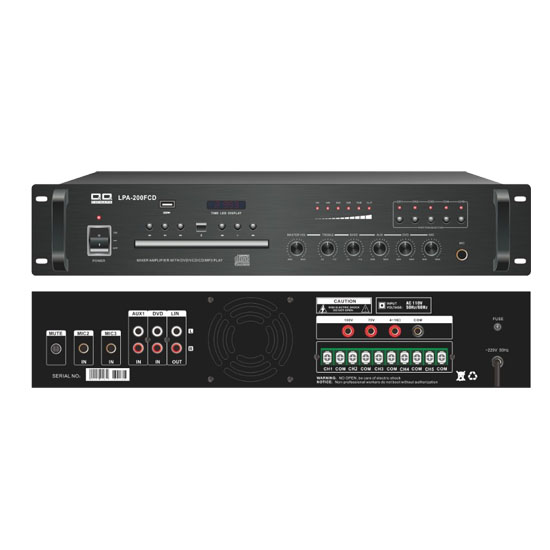 Product name:Mixer Amplifier with 5 Zone / CD Player FCD Series
Category: Mixer Amplifier With Sound Source
Item:MA-60UCZ5/MA-100UCZ5/MA-150UCZ5/MA-200UCZ5
Details:
Function
1. Three microphone inputs,two auxiliary inputs,and one auxiliary outputs for link.
2. Transformer isolated 100V,70V and 4-16 Ohms speaker outputs.
3. A five element LED level meter is provided for quick and easy visual monitoring of the sound level.
4. Muting function with CD player.
5. Five zone,Individual volume control,low and high tone control.
6. Short circuit protection & alarm.
7. Individual distributor for 6 channels,the volume can be adjusted independently.
8. panel colour: Black or Silver.

Technical Parameters

| | | | | |
| --- | --- | --- | --- | --- |
| Model | MA-60UCZ5 | MA-100UCZ5 | MA-150UCZ5 | MA-200UCZ5 |
| Line voltage | 70V-100V | 70V-100V | 70V-100V | 70V-100V |
| Impedance | 4-16Ω | 4-16Ω | 4-16Ω | 4-16Ω |
| Rated power | 60W | 100W | 150W | 200W |
| Zone | 5 | 5 | 5 | 5 |
| Dimension(mm) | 485*360*90 | 485*360*90 | 485*360*90 | 485*360*90 |
| Weight(KG) | 7.5 | 8.2 | 9 | 10.2 |
| Gross weight(KG) | 8.8 | 9.6 | 10.5 | 11.5 |
Previous:MA-30U
Next:MA-60IZUMB - MA-1000IZUMB