Products Search
Products Category
Contact Us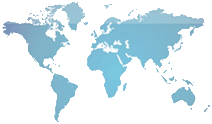 Links
Pure Power Amplifier(280W-1000W)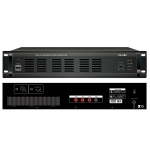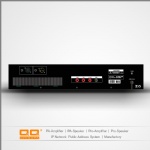 Product name:Pure Power Amplifier(280W-1000W)
Category: Power Amplifier
Item:PA-280 - PA-1000
Details:
Function
1. Transformer isolated 100V,70V and 4-16Ohms speaker outputs,balanced,no grounding,two channel or four channel for your choose.
2. 5 LED indicators for status display.
3. XLR socket and 6.35mm jack for amplifier link.
4. Output circuit shorting protection and display,short-circuit warning and protection,over-heat warning.
5. Series amplifiers of high output power available.
6.With Limiter function, music without distoration.
Technical Parameters
| | | | | | | |
| --- | --- | --- | --- | --- | --- | --- |
| Model | PA-280 | PA-380 | PA-480 | PA-680H | LPA-880 | PA-1000 |
| Line voltage | 70v-100v | 70v-100v | 70v-100v | 70v-100v | 70v-100v | 70v-100v |
| Impedance | 4-16Ω | 4-16Ω | 4-16Ω | 4-16Ω | 4-16Ω | 4-16Ω |
| Rated power | 280w | 380w | 480w | 680w | 880w | 1000w |
| Zone | / | / | / | / | / | / |
| Dimension(mm) | 435*390*90 | 435*390*90 | 435*390*90 | 435*390*90 | 435*390*90 | 435*390*90 |
| Weight(KG) | 13 | 14.5 | 17.26 | 18.5 | 21 | 21.5 |
| Gross wight(KG) | 14.28 | 15.78 | 18.24 | 19.78 | 21.28 | 22.78 |
Previous:PA-2*300/PA-2*400/PA-2*500
Next:PA-2*2000/PA-2*4000/PA-2*6000